About Victor Vlam
Victor Vlam (1984) is an America expert, communications trainer and moderator. He studied law at Tilburg University, the Netherlands Victor used to be the the chairman of the Dutch Debating Association, and during his law studies he reached the semi finals in the debating world championships.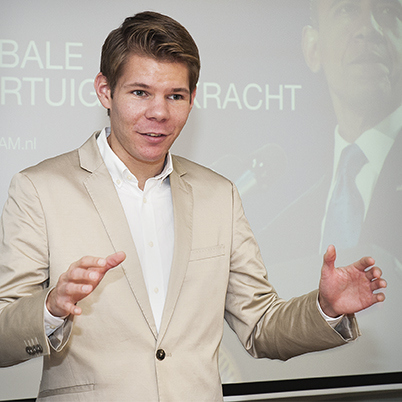 Victor is a popular communications and debate trainer and coach, throughout the Netherlands and beyond. Besides directors, students and local councillors, MPs and other professionals, Victor has trained a national party leader to prepare for his election debates.
Since in 2008 en 2012 Victor campaigned for President Barack Obama, he is regularly invited as an America expert. He also provides lectures on this subject. He has written over 200 articles for The Post Online about America and is featuring on the Dutch NPO Radio 1 station almost every week. In addition, he has been featured in Dutch TV shows such as EénVandaag, the NOS News and RTL Boulevard. Victor interprets the news in a smooth, clear way and with journalistic integrity. Victor got his passion for America, during seven years of his childhood he has spent there. tVictor has visited 46 of the 50 states of america.
Victor has also been working as a moderator. For countless meetings he fulfilled the role of an independent, knowledgeable and inspiring presenter for groups from 10 up to 10,000 people. As a partisan debate leader, he has led election debates with Dutch political figures, like Alexander Pechtold, Ronald Plasterk and Sybrand Buma. He also presents public events, like an open evening of the District Court of Haarlem and debates between citizens and city councilors in Rotterdam. He also presents business meetings, such as for ABN AMRO and Randstad.
Victor is convincing, knows what he is talking about. The combination of his speakers talent, enthusiasm and the way he involves his audience in his training and knows how to inspire them makes Victor unique in his field.
Below, you can watch how Victor Vlam debates on the economic crisis at the Dutch NOVA College Tour, with Twan Huys:
Below, you can watch a video with Victor Vlam 'At the table with' the Van Liempt Live show on the Dutch RTLZ channel:
Victor Vlam is available as an America expert, moderator, communications-and debate trainer, coach and guest lecturer. Please contact Anne Marie Westra to inquire about further possibilities, by email - annemariewestra@e-plu.nl, or telephone +31- 534347567.