About Philip Hess
Philip Hess is well-known as an entrepreneur and co-founder of senz°, the company that successfully sells its innovative storm umbrellas across the world.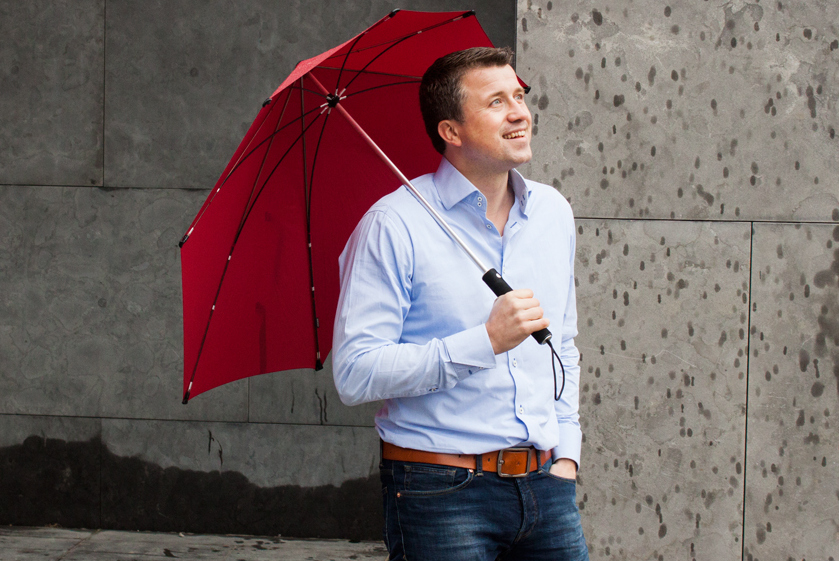 He developed a taste for sales, when he started selling office furniture at Ikea during college. He graduated as an industrial designer at Delft University of Technology and as a business administrator at Rotterdam Erasmus University. As a professional athlete, he played in the premier basket ball league. During his college days, he dreamed of his own business. Suddenly there was this golden idea: an umbrella that remains perfectly well, even in a force 10 gale. In 2006, Philip founded senz°, together with two partners. By now, senz° is exporting to over 50 countries, has sold the first 3 million iconic storm umbrellas, and the company, that has won many prestigious design prizes, has more than 20 employees.
In 2016 senz° launched a crowdfunding campaign to raise growth capital for an international scale-up. "A logical step, because senz° makes products for real people, and with the inspiration, ideas, as well as critical feedback from the crowd of senz° fans, the company will also be able to make the world a little better!" After a hugely successful campaign, in which in a very short time more than the target amount of 1 million was raised, the company is now well on its way to generating 90% of its sales from abroad in the future.
Besides his operational role within the senz° company, Philip is a popular coach, speaker and moderator, with an international track record from Brazil to South Korea, Spain and the UK. With his energy and enthusiasm, Philip knows how to captivate his audience from beginning to end. Not only his successes, but certainly also his entrepreneurial missteps will be covered. Conscious entrepreneurship will be the key in Philip's lectures. He dares to be vulnerable, is sincere, down to earth and does not like meaningless talk. As a moderator, Philip also aims to get this out of his guests, on stage. Through his diverse backgrounds, Philip Hess is able to bring the worlds of design and business together.
If you would add to that a good dose of consciousness plus some coaching, you will know for sure that, after you have heard Philip's story, you will go back home with a big smile on your face. Philip will always adapt his topics to his audience, regardless of whether it consists of new entrepreneurs, developers, communications specialists, designers, students or schoolchildren.
Below, you can watch a video of Philip about how to market your innovation successfully, meaning the innovativing senz° storm umbrella.
Below, you can watch how the many awards winning senz° storm umbrella is tested in the kids TV show "Phineas & Ferb Inventor Tour", by using a huge wind machine!
Philip Hess is available as an entrepreneurship, innovation & design, marketing and crowdfunding speaker, moderator, juror and guest lecturer. Please contact Anne Marie Westra to inquire about further possibilities, by email - annemariewestra@e-plu.nl, or telephone +31- 534347567.