Over Vera Hofmann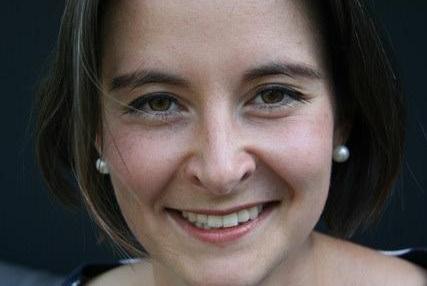 Vera A. Hofmann (1990) is driven by the question why we humans do what we do and how we can find balance in the world we live in. She is the founder and director of Dare to Imagine where she helps individuals and organizations as facilitator and (business) coach to become aware of the Paradigm Shifts we go through as well as to tap into our potential for positive change and unfold it.
During her studies in Psychology she observed that in our western world we seem to nearly exclusively focus on a) what can be measured and b) what needs to be fixed. Even though she loved the subject of Psychology she missed a way of approaching and working with humans in a way that acknowledged their complexity and the potential for doing good. She wondered why we stop paying attention once the problem is found and fixed. Actually here it would become interesting to learn what makes us thrive, wouldn't it?
That's why she was hooked immediately when she learned about an approach called Appreciative Inquiry at the end of her studies. She signed up for an internship with an internationally working AI practitioner and consultant and soaked up everything she could find about this human-centered and strength-based approach. In serendipity this internship was also the stepping stone to move from her home country to the Netherlands. She attended the First Global Conference for Positive Change in Amsterdam and swore to herself that sooner or later she would a) move to this cosmopolitan, liberal and tolerant city and b) that she'd find a way to earn her money in a way how most of the people she met during that conference did: by helping people and organizations to thrive.
It took her another year of starting and quitting her first full time job in the hospitality industry and applying in vein for a new position before she gathered all her courage to leave Germany for an uncertain future in the Netherlands. Without having a job offer and only with a handful invitation to see a few apartments in her new hometown she packed her suitcase and moved. Only to find herself rewarded in the next days by finding a nice place to live and her first assignment as a project manager for the Second Global Conference for Positive. Sometimes you just have to trust life and the grace you may receive when you dare to imagine.
In the years that followed she combined the expertise and experience she gained in the hospitality industry and the world of consultancy when co-creating a start-up providing L&D solutions for service-minded businesses. With Dare to Imagine she now continues this journey, making the world and our businesses more hospitable places. She does that as a facilitator and coach by allowing her customers to find and listen to and make meaning of the answers that are already in us, ready to be lifted to the surface. She also helps us understand the extra-ordinary times we live in. Times that allow us to shift from centralized to decentralized power structures, from a fear- and depth-based economy to a trust-/purpose-/care-, maybe even love-centered way of doing our business, times that demand for planetary thinking, that teach us to appreciate our uniqueness and the beauty in diversity and where we may wonder what unique value we can create as human beings in times of artificial intelligence.
Vera's passion, curiosity and expertise lies in the fields and topics of courage, feminine leadership, appreciative inquiry, intercultural psychology and the paradigm shifts we experience in these days.
Courage
Paradigm Shift
Intercultural Psychology
Women and Money
Feminine Leadership
Hospitality as a key for your success
Appreciative Inquiry
How we not only live but ARE our own stories (social constructionism)
_________________________________________________________________________________
Vera Hofmann is inzetbaar als spreker, trainer, gastdocent en dagvoorzitter op het gebied van (vrouwelijk) leiderschap, moed, interculturele psychologie en paradigma-shifts. Informeer bij Anne Marie Westra naar de verdere mogelijkheden via e-mail annemariewestra@e-plu.nl, of telefoon +31 53 434 75 67 / +31 6 488 285 77.